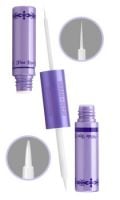 Editor's Rating & Review
Looking to turn favorite eye shadows into liquid liner? Keep looking. Urban Decay's Eyeshadow Transforming Potion is a brilliant concept -- a clear liquid liner base without pigment, packaged with two brushes for thick or thin lines -- but it's flawed in delivery. Its brushes cannot retain enough pigment to draw a solid line, and over time, re-inserting the used brush turns the clear liquid muddy in color. Wear is below average. A much better bet for less money:
Paula Dorf Transformer
or
Urban Decay Liquid Eye Liner Vintage.
Reviewed by beth on 11/07/2008

How we review products
Back
to top