Timesaving Hair and Makeup Tricks

Posted by Kristen on October 8, 2010 at 04:43PM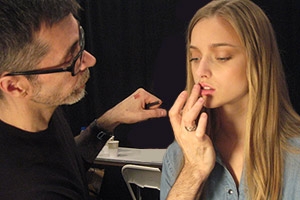 Did you make it to New York Fashion Week last month, or did your invite get lost in the mail? In case you missed the mother of all beauty and fashion extravaganzas, we were there trend spotting, reporting and schmoozing (we know, you're probably thinking, "poor babies," but it's actually quite a marathon) to bring you the scoop. In fact, we hunted down the hair and makeup wizards backstage and asked them to spill their time saving tips and tricks with us. So … here are some hair and makeup shortcuts that'll help you get out the door faster in the morning:
Tip 1: Apply mascara first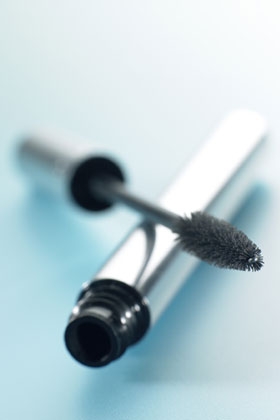 "My big philosophy is to do mascara first. If you do it first, even if you're in a hurry, you can add a gloss and you're done," says makeup artist Napoleon Perdis who created the makeup look for the Kaelen show. If more time allows he recommends contouring cheeks with a two-toned blush (try Dior Diorblush, $40) that can also be worn on the eyes, and then "you're done," he says.
Tip 2: Skip shampoo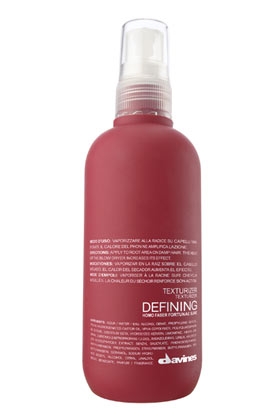 If you have straight hair and don't have time to do a full blow dry, skip shampooing and instead, spritz dry hair with a texturing or volumizing spray like Davines Defining Texturizing Styling Spray, $14.99. Then, blow out hair in large sections with a round brush to give it a pretty finish without having to spend a ton of time getting it dry. -- hairstylist Leonardo Manetti, backstage at the Timo Weiland show
Tip 3: Paint on one coat of color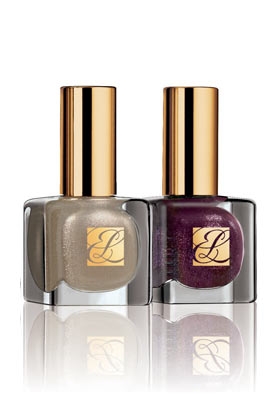 Don't have a lot of time to let your nails dry (join the club)? Then go for a shimmery or metallic shade like Estee Lauder Pure Color Nail Laquer in Extravagant Pearl, $18. Shimmery hues offer better coverage in one coat, so you can do a base coat, one coat of color and a quick-dry topcoat and your nails will dry in a flash and look perfectly manicured. -- Jin Soon, owner of the Jin Soon Hand and Foot Spas, backstage at the Derek Lam show
Tip 4: Flat iron faster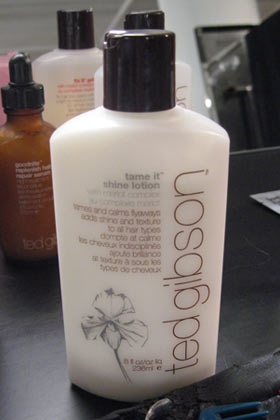 If you're short on time, but want a perfectly smooth, sleek hairstyle, take larger sections of hair (normally smaller sections are preferred); apply smoothing lotion to each (try Ted Gibson Tame It Shine Lotion, $15.99) then smooth over the sections with your flat iron. The product will help create flatness in the hair and larger sections will make the process go much faster. -- Ted Gibson, owner of the Ted Gibson Salons, backstage at the Vena Cava show
Tip 5: Embrace eyeliner mistakes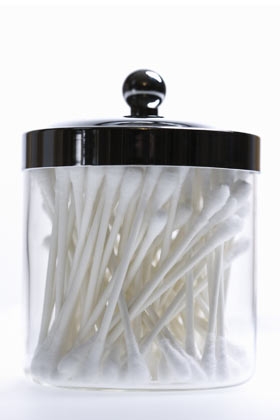 Eyeliner is one of the trickier makeup techniques to master, and if you attempt to apply it in a rush, you're likely to mess it up. "My technique is, if I do an eyeliner and the eyeliner is not perfect, I like to grab Q-Tips and I smudge the eyeliner and it becomes a smudgy eye," says makeup artist Tom Pecheux backstage at the Peter Som show. So if you're in a pinch, don't continue to try to perfect the liner, just rock a sultry effect.
Tip 6: Create wavy hair on the fly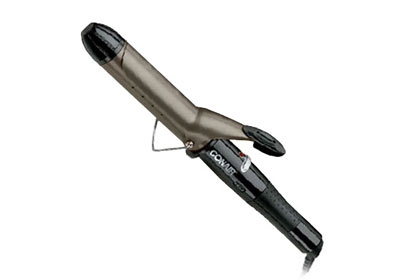 If you don't have a lot of time, but want to wear a casual, wavy texture, focus on curling just the top layer and front sections of your hair. Use a one to one-and-a-quarter-inch curling iron, and spray each section with hairspray before you curl. Finish by scrunching your hair and spritzing it with dry shampoo (try Tresemme Fresh Start Dry Shampoo, $3.49) for a more lived-in finish. -- hairstylist Mara Roszak at the Whitney Eve show
Tip 7: Go for monochromatic cheeks and lips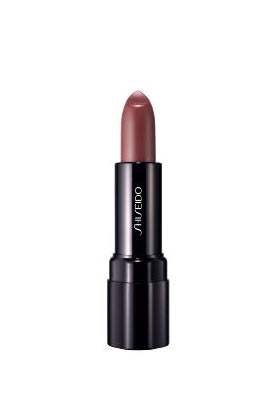 If time is of the essence, "cheeks and lips are the easiest things because you don't have to fuss much with yourself," says makeup artist Dick Page while backstage at the United Bamboo show. "And, of course, a cheek and lip can be the same color, so you can use the same product, like a lipstick (try Shiseido
Perfect Rouge Lipstick in RD 603 (Red Triton), $25). "Just pat it into the cheek and apply it straight to the lip," he says.
Tip 8: Try a messy knot when you don't have time for a trim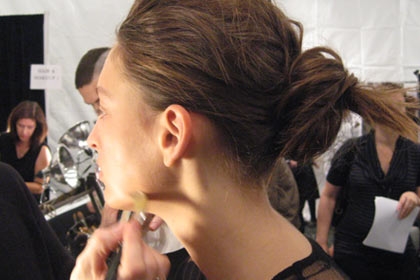 "Go with a messy knot if your hair isn't in great shape. Just put a bit of product in it, like a thickening lotion (try Redken Thickening Lotion 06, $17), then dry it quick and twist it up," says Guido Paulo while backstage at the Alexander Wang show where he was creating a much more avant garde look (it required clay and white pigment) than the one pictured here, which was taken at the Tadashi Shoji show. To add a little glamour to a simple updo, try some hair accessories, or to pull things out of the way, throw on a headband, he adds.
See the rest of the hair and makeup shortcuts here.