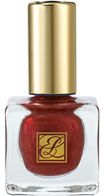 Editor's Rating & Review
"Lacquer" says it all. It delivers bold, bright color in one quick-drying coat, and stands up to its claims of being "so shiny it looks wet." Another plus? The chip factor is seriously low -- even without being protected by a top coat. The museum-glass-thick bottle is cute and practically shatter-proof. The only question mark is value: It seems like there's more packaging than product.
Reviewed by Kristen on 09/26/2007

How we review products
Nice Product...Bad Value

The Estee Lauder Nail Lacquers are a good quality product. The colors are classy and true and don't chip. My problem is you get so little product for the price. I think this is on par with OPI but more product would make it even better.

Good colors

Great color selection and easy to use handle. I just found the colors didn't wear very well on me. Still, they applied nicely and were very pigmented.

Classy

I didn't think I'd say this but the lacquer (Clear Top Coat) is very nice. Of course, the price is pretty high at 13 dollars but we aren't talking drug store quality. I'd say it ranks up there with OPI (9 dollars a bottle). I won a gift certificate actually from totalbeauty or I wouldn't have indulged. If you aren't pinching pennies I'd say it's worth it. It brushes on expertly.

Back
to top