The TotalBeauty.com Sweepstakes Winners!

Congratulations TotalBeauty.com Private Debut Sweepstakes Winners!
The grand prize Private Debut Sweepstakes winner!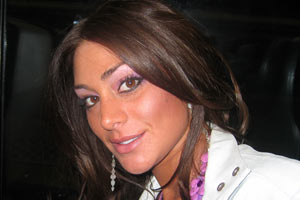 Frances Scelfo of Amityville, NY
Winner of an all new 2008 Pontiac Solstice
"I am managing several Tanning salons on Long Island. Unfortunately I dont remember what products I reviewed, it was back in December 07, and I am constantly reviewing products...all of the chi products i reviewed, catwalk, fekkai, md skincare! My best trick is always using MD SKincare's tinted moisturizer... It gives a nice even finish and a nice glow. When I am running errands and dont put on makeup, Its a good fake-out. The one product on my wish list right now would be the La Prairie Skin Caviar Luxe Cream...heard excellant things about it! I love totalbeauty.com, because its great to get feedback from others like me, and I love trying new products and its good to know what you are getting before you get it!"
The 1st place prize Private Debut Sweepstakes winners!


Kerry Paul of Felton, PA
Winner of a Spa Trip for Two
"I was incredibly surprised and thrilled to find out that I had won the TotalBeauty.com Private Debut Sweepstakes! I love using the site as a resource; there are so many useful links on it that I find myself browsing for well over an hour! I've reviewed many products but my favorites are natural products such as those by Burt's Bees, Kiss My Face, Jason and Giovanni. I feel good using these because I know I'm doing good for my body. To help feel even better from the inside out, I drink ample water and try to keep my makeup looking as natural as possible."

Jill Stone of Wilmington, DE
Winner of a Spa Trip for Two
"I'm an administrative assistant from Wilmington, Del. I have reviewed mostly hair and makeup products on TotalBeauty.com. I love getting real ratings on products people have used -- they often help me to decide if I should try a product or not. The next product on my wish list to try is Burt's Bees Coconut Foot Cream. I look forward to rating this and other products soon."
More Private Debut Sweepstakes winners!
jg0825
Won: $50 DermStore.com gift certificate
JanelMarissa
Won: $50 DermStore.com gift certificate
r1bennett
Won: $50 DermStore.com gift certificate
dstoeser
Won: $50 DermStore.com gift certificate
amiseg
Won: $50 DermStore.com gift certificate
lioness7
Won: $50 DermStore.com gift certificate
Sweetpea1126
Won: $50 DermStore.com gift certificate
amandaks
Won: $50 DermStore.com gift certificate
rjl706
Won: $50 DermStore.com gift certificate
Kearstin
Won: $50 DermStore.com gift certificate
Donisha
Won: $50 DermStore.com gift certificate
qtpatooty
Won: $50 DermStore.com gift certificate
CindyV63
Won: $50 DermStore.com gift certificate
vicki777
Won: $50 DermStore.com gift certificate
Illustrious83
Won: $50 DermStore.com gift certificate
welirol
Won: $50 DermStore.com gift certificate
AllieB
Won: $50 DermStore.com gift certificate
Janice25
Won: $50 DermStore.com gift certificate
JacquelineAmes
Won: $50 DermStore.com gift certificate
kocomo
Won: $50 DermStore.com gift certificate
Mila
Won: $50 DermStore.com gift certificate
Shannyl
Won: $50 DermStore.com gift certificate
bs4anderson
Won: $50 DermStore.com gift certificate
paulagrace
Won: $50 DermStore.com gift certificate
lindafavro
Won: $50 DermStore.com gift certificate
mvap47
Won: $50 DermStore.com gift certificate
shari10
Won: $50 DermStore.com gift certificate
wyattsmommy
Won: $50 DermStore.com gift certificate
peggymillen
Won: $50 DermStore.com gift certificate
monini
Won: $50 DermStore.com gift certificate
mdensley
Won: $50 DermStore.com gift certificate
StephanieR
Won: $50 DermStore.com gift certificate
redhairangel
Won: $50 DermStore.com gift certificate
honeda
Won: $50 DermStore.com gift certificate
cheechpeach
Won: $50 DermStore.com gift certificate
Celestial
Won: $50 DermStore.com gift certificate
CindyLu313
Won: $50 DermStore.com gift certificate
calicokitty
Won: $50 DermStore.com gift certificate
talynnda
Won: $50 DermStore.com gift certificate
syoung9
Won: $50 DermStore.com gift certificate
Reetzs
Won: $50 DermStore.com gift certificate
Kellynicole
Won: $50 DermStore.com gift certificate
awtribbey
Won: $50 DermStore.com gift certificate
cshimmel
Won: $50 DermStore.com gift certificate
jennwmu
Won: $50 DermStore.com gift certificate
indygirl
Won: $50 DermStore.com gift certificate
Roxie680
Won: $50 DermStore.com gift certificate
ppchen86
Won: $50 DermStore.com gift certificate
brmaurer
Won: $50 DermStore.com gift certificate
BlackBarbie
Won: $50 DermStore.com gift certificate
aimeen
Won: $50 DermStore.com gift certificate
karap727
Won: $50 DermStore.com gift certificate
GailSmith
Won: $50 DermStore.com gift certificate
sillyangel
Won: $50 DermStore.com gift certificate
BeeLGee
Won: $50 DermStore.com gift certificate
pinkshimmer
Won: $50 DermStore.com gift certificate
Sharon Myers
Won: $50 DermStore.com gift certificate
Esther Sineni
Won: $50 DermStore.com gift certificate
Mary Boemmel
Won: $50 DermStore.com gift certificate
Janis Vunak
Won: $50 DermStore.com gift certificate
Danny Lee
Won: $50 DermStore.com gift certificate
Elizabeth Kaime
Won: $50 DermStore.com gift certificate
Catherine Maes
Won: $50 DermStore.com gift certificate
Joyce McComas
Won: $50 DermStore.com gift certificate
Horace G. Harmon
Won: $50 DermStore.com gift certificate
Stephen J. Femiak
Won: $50 DermStore.com gift certificate
Dotty Newsom
Won: $50 DermStore.com gift certificate
Barbara Green
Won: $50 DermStore.com gift certificate
Wayne Rlrwin
Won: $50 DermStore.com gift certificate
June Rohn
Won: $50 DermStore.com gift certificate
Kathy Travis
Won: $50 DermStore.com gift certificate
Karleen Heller
Won: $50 DermStore.com gift certificate
Vicki Dunning
Won: $50 DermStore.com gift certificate
Mlc Fevre
Won: $50 DermStore.com gift certificate
Dorothy Norton
Won: $50 DermStore.com gift certificate
Marvis Holbrook
Won: $50 DermStore.com gift certificate
Lindsey Pierson
Won: $50 DermStore.com gift certificate
Richard C. Meyers
Won: $50 DermStore.com gift certificate
Sharon Burtell
Won: $50 DermStore.com gift certificate
Barbara Brilliantine
Won: $50 DermStore.com gift certificate
Stephanie Walker
Won: $50 DermStore.com gift certificate
Cathy Gibson
Won: $50 DermStore.com gift certificate
Nancy E. Carr
Won: $50 DermStore.com gift certificate
Carin Cohen
Won: $50 DermStore.com gift certificate
Rose Dunlap
Won: $50 DermStore.com gift certificate
Eileen Lorentzen
Won: $50 DermStore.com gift certificate
Gary Doughlas
Won: $50 DermStore.com gift certificate
Donna Wanninger
Won: $50 DermStore.com gift certificate
Daniel Hathy
Won: $50 DermStore.com gift certificate
Linda Hoffmann
Won: $50 DermStore.com gift certificate
Valerie Layton
Won: $50 DermStore.com gift certificate
Susan Di Franco
Won: $50 DermStore.com gift certificate
Vicki Esch
Won: $50 DermStore.com gift certificate
Floyd Houin
Won: $50 DermStore.com gift certificate
Michael Szymanski
Won: $50 DermStore.com gift certificate
Mary Conrad
Won: $50 DermStore.com gift certificate
Randy Ver Maas
Won: $50 DermStore.com gift certificate
Margaret M Swain
Won: $50 DermStore.com gift certificate
Shirley Ann Hambleton
Won: $50 DermStore.com gift certificate
Marsha Saenz-Jones
Won: $50 DermStore.com gift certificate