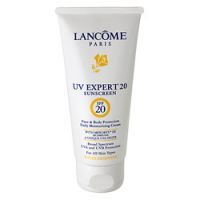 Just The Right Consistency to Wear Under Makeup

Lancome UV Expert 20 contains Mexoryl SX. According to dermatologists, Mexoryl SX is the most effective UVA-blocking ingredient currently available. It has been used in Canada and Europe since 1993 but approved by the FDA for use in the U.S. in July 2006. This is one of my four sunscreens that I pack in my beach bag. It has just the right consistency to wear under makeup.

nothing special

i found that this product was difficult to blend into my skin and it made my skin look slightly white. it doesn't really have the yucky sunscreen smell to it which is nice. i have use it on my body, but i would never attempt putting this on my face because i keep my face sunscreens and body sunscreens separate (i had a friend that got horrible, cystic acne breakouts from using body sunscreen on his face and i personally wouldn't wanna risk it).

I don't care for it

It turned me into a ghost!! The lady at the counter claims she hasn't seen anyone turn white with it but I find that hard to believe. I also found the product did not readily absorb into my skin but rather had to be massaged in for quite awhile. The whiteness also did not fade but remained even hours later. As for sun protection - I'm not sure but I won't wear it for how white it makes my skin.
Back
to top