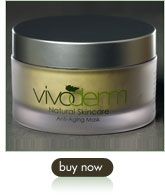 Vivoderm Anti Aging Mask
As low as
its realy effective product

thanks

I love this mask

I can not speak highly enough of this mask. Though it is a little bit of work to mix the powder with water and it is messy when you wash it off, the hassle is really worth it. I can honestly say this mask has transformed my skin. I put it on before I go out at night or before important events. It gives me a healthy glow for hours. In general, my skin looks more fresh and clear than it ever has. Just try it and you will see what I am talking about.

Great product

This mask is very unique. It is all herbal in form of powder. You mix it with water before applying it to your face. This was something I was not used to. It is also a little messy to wash off. But be live me all of that is worth it. My skin felt warm after I used it the first time which is because of increased circulation. After about a month I can easily see the difference it has made. My skin looks a lot healthier and clearer I highly recommend this mask to everyone.
Back
to top