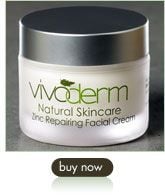 Vivoderm Zinc Repairing Facial Cream
As low as
love!!

I'm just going to copy and paste my reviews of the eye cream because its the same: I got a buch of the vivoderm creams in a swag bag and never thought i'd really try them, the other night when i ran out of my usual clinique stuff i opted to use this one instead of going without for a night. HOLY CRAP I am now HOOKED. When i woke up i looked less tired, I'm only in my 20's but I looked even more y...read moreouthful. I am now using all of the stuff I got in that swag bag religiously and am obsessed with the results!! I would recommend these products to any cream junkie around- now need to find a place that sells it locally!!!

love it!

All of Vivoderms products are excellent! Probably the best thats out there (ive tried them all...)! I use this in the morning after i take a shower and before i aapply my makeup. i like it because it feels great right when you apply it and after using it for weeks now, i definetly have noticed a difference

This cream saved my life!

I started using the Vivoderm Zinc Cream about 8 months ago. After about 3 weeks people were making comments like: "You are looking younger, What are you doing to your skin?". First I noticed that my blemishes were starting to fade, then, then my wrinkles. It is also a sun block! I can not believe how one product does so many things! I love it. Just be aware: this cream is much thicker than most cr...read moreeams out there. For it to absorb into my skin, I usually have to rub it for about 20-30 seconds.
Back
to top