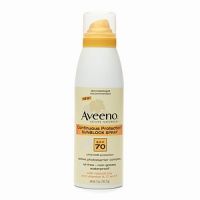 nice spray function

I liked this b/c of the ease of spraying it on. Not messy and lasts long. I would buy this again for the spray function of it. The ingredients aren't that great b/c I like more natural. But it is nice once in a while if I'm in a rush.

A Must Have!

Yes, each of us have our SPF 30 Sunscreen for a picnic at the park or a nice hike, but that simply doesn't compare to the SPF 70 protection Aveeno offers. I can't leave for a beach vacation without this. It works nonstop and doesn't easily wash or rub off. Also, I love the easy sray applicaton.

Great for Ezcema and Sensitive Skin

I use this everytime the weather starts to heat up. Since I have ezcema I have to be very very careful of being in the sun. This sunblock helps shield my skin from further irritation and prevents future outbreaks as well. Doesn't leave you feeling sticky at all and smell is fine.
Back
to top