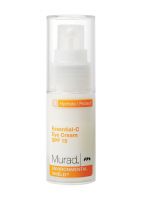 Murad Essential C Eye Cream

This is a perfectly fine eye cream if you're in your teens, but I think if you're over 25 you might want to take a pass on this one. I cannot tell if it even works, therefore I am glad I did not invest in this beyond a tube that came in a kit. The full size is expensive, more than several of the skin care items I use combined, so it's definitely off the table for me.

No special results, plus stings my eyes!

I love other Murad products (the anti-aging acne skin care is awesome), but this eye cream is mediocre at best. It definitely moisturizes my eye area, but if I rub my eyes anytime during the day it gets in them and makes them sting. It doesn't seem to be noticeably firming for me, and it definitely has no anti-puff or cooling properties. I'm really disappointed and won't ever buy this again.

Stings your eyes

After the first few applications, it stung my eyes terribly. I applied to the orbital bone only, but even then, it somehow migrates into your eyes, and it burns. I like the SPF in it, but that's about the only appealing thing. It does not help with dark circles or puffiness. The texture is good, but the fact that it burns your eyes easily, I would not recommend.
Back
to top