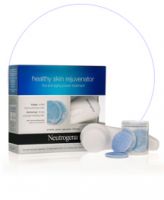 Too rough

This kit was overpriced. It was way too harsh on skin as well. I can see why they stopped making it.

I use this with caution

What I liked about this Rejuvenator is that my skin feels smoother and cleaner. It exfoliates and removes dry patches and flakes. It is easy to set up. With a good amount of water a pad foams up quite well. I feel that I am wasting to throw away a pad just after one use. But I don't think it has helped to eliminate or reduce the appearance of my wrinkles. I definitely don't recommend this for sens...read moreitive skin. The pads are quite rough. Also, be extra careful to use an alcohol-based toner after exfoliating with these pads. I don't have sensitive skin, but I felt a bit burning sensation using my toner after massaging and exfoliating with this. The package suggests "use up to 3 times a week", but 3 times would be too often for my skin. Also, I find that the replacement pads are expensive and not every store carries the puffs refill. :(

So far so good

I have been using for about a week and a few of my co-workers asked if I had a photofacial. My husband also commented that my skin was glowing and he never notices things like that so it must me good!
Back
to top