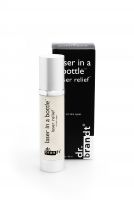 Dr. Brandt Laser Relief
As low as
Didn't work for me

I have very dry and sensitive skin, and bought this cream stupidly believing all the hype and it was awful, my skin became so dry and started to peel. I am in my early twenties and this product made my skin look an old ladys, dry and wrinkly! imo my skin became redder due to the product being very drying thus irritating my skin. i would not recommend this to anyone and the cost is astonishing! High cost does not always mean that the product is any good!!

Good Product

Have rosacea and have used many products including metrogel for redness. I noticed an improvement with Dr. Brandt Laser Relief. My only complaint is the price, it is expensive.

Wow!

I have moderate to severe rosacea and have tried many products. I recently had a laser procedure for my rosacea, and between the treatment and this product my skin is looking like it did years ago. I have been using makeup to cover my skin for a few years now, and now not only is the redness better, but the texture has improved as well. Thank you Dr. Brandt!
Back
to top