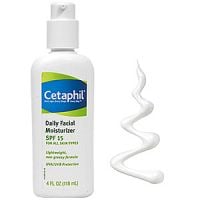 Editor's Rating & Review
A favorite of dermatologists and sensitive skin types, this creamy white moisturizer is fragrance-free and won't clog pores. Those not chemical-cautious will appreciate the sunscreen, even if it's only SPF 15. Dry skin types will find the mix of conditioners like glycerin and silicones light enough to wear under primers and foundations, but they might feel too heavy on oily skin. The drugstore price can't be beat as long, as you can handle the medicine-like smell.
Reviewed by the Total Beauty editorial team on 09/19/2007

How we review products
do not want

This just sat on top of my skin and refused to absorb. Terrible.

Prefer Cerave better.....

I like how this product absorbed really fast and didn't feel heavy on my face at all nor does it feel greasy. But on the down side, it made me break out like crazy. I have oily skin and after a while, this product burned my eyes. I bought a new face wash along with this moisturizer and at first I thought it was my new face wash but after omitting this and using just the face wash, I realized it wa...read mores this product breaking me out instead. I would have loved to enjoy this since I'm a big fan of SPF in my moisturizer but too bad, this didn't cooperate with my skin.

Burned

I tried this because I heard that its good for the skin, but it burned the area around my eyes so bad, that I had to give it away. I liked that it moisturezed my skin really well (I have oily skin, but I''m VERY sesintive to breakouts) I was disappointed...
Back
to top