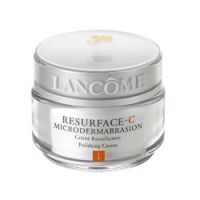 Just ok..

I used this product couple of months ago. This is the first lancome product I have ever used. To be honest there is nothing exciting about the product. It just did what any regular microdermabrasion does that is work as a high quality scrub. So far I have used 4 different brands of microdermabrasion and none of them did what they claim and lancome is no different. it did not deminish my brown spot...read mores a bit, I dont have very dry skin or any wrinkle so there was nothing to change in that area. What I can say is that it does not feel very rough on your skin like one dermabrasion I used. It makes your skin feel smooth and mildly soft. But in terms of wrinkle and brown spots no use. The packaging looks really nice but I would prefer my skin products in tubes or pumps where I wont have to stick my fingers in it every time I use it. it is over priced for its quality and amount. There are cheaper products that will provide the same result.

Perfect surface

I have used so, so, so many home dermabrasion systems - even the hand held electronic ones. I am in my 50's and have very good skin and always have - but, let's face it, old skin is old skin! I have never gotten results from anything like I do with this. I use it in the shower twice a week and the Vit C every night and have just bought my second set. The Vitamin C makes your skin smell like french fries - seriously, but it goes away when you wash in the morning.

lancome resurface microdermabrasion

Very dissatisfied with this product. Couldn't see the difference.
Back
to top