The Celebrity Makeup Look and Hairstyle I'm Crushing On Today

Posted 10/11/10 at 06:39PM by Kristen Giordani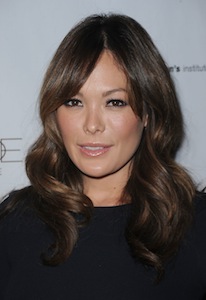 Lindsay Price is naturally gorgeous. This is obvious -- I know. And though I may not have been blessed with the same shiny strands, perfectly placed freckles and flawless skin, I'm hoping if I knock off her hair and makeup look, I'll at least look
half
as gorgeous as she does here.
Here's how I plan to copy the look:
Hair
Step 1:
I'll prep my wavy strands with hydrating soft-hold mousse.
Step 2:
Rough dry my hair with my hands (no brush) until it's totally dry.
Step 3
Use a one and a quarter-inch curling iron to curl my hair all over -- by wrapping strands around the iron, not clamping them in. I'll spritz each section with hairspray as I go for added hold.
Step 4:
Fingercomb through my curls to smooth them out.
Makeup
Step 1:
Apply foundation to even out my skin tone.
Step 2:
Dust my cheekbones with a generous amount of rose-colored blush (one with a hint of shimmer)
Step 3:
Line lashlines and inner rims with black pencil eyeliner.
Step 4:
Coat top and bottom lashes with black mascara.
Step 5:
Slick on a very glossy, but sheer, pink lip gloss.
Will you attempt this look too? I think it is the perfect go-to makeup look and hairstyle for any day or occasion. Agree?
Check out the products that will best accentuate your natural beauty -- here.
Or if natural isn't your thing, maybe you should try wearing a bold purple hue -- it's one of the hottest colors of the season.
See how I'm incorporating it into my makeup look here.

Our Expert Guides