Eye Makeup Look: How I Finally Learned to Master Smokin' Eyes

Posted 10/12/10 at 04:13PM by Susan Yara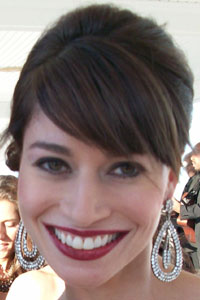 Every time I attempt to create a smoky eye, my efforts seem to go up in flames. So for my BFF's wedding, I decided to get a little help from makeup artist Santos at the Frederic Fekkai Salon in New York City. It turns out I was doing it all wrong.
Here's how he said I could get it right next time I try:
Step 1: Use a primer for staying power. Products like
Benefit Stay Don't Stray
, $24 act like double-stick tape so smoky shadow won't turn into raccoon eyes.
Step 2: Choose the right shade. Smoky doesn't mean black. Santos suggested going with a cobalt gray shade for a more natural look or a jet black if you want something more dramatic.
Step 3: Layer it on. Start applying light layers from your lid into your crease, blending the color upward. Oh, and be sure you do this before applying your foundation. Otherwise, cleaning up shadow flecks won't be much fun.
Step 4: Line it. Use a liner -- black, gray, or silver – to rim your lids and create sultry definition.
Step 5: Highlight. Top off your look with a white or gold highlighter applied just under your browbones to reflect a little light.
Step 5: Mascara is a must. Flick on a few jet black coats and ta-da -- smokin' hot eyes.
So here's a pic of the final result. What do you think?
Learn how to create other wedding-worthy makeup and hair looks here.
Get flawless skin to pair with your new smoky eyes by follow this expert advice.

Our Expert Guides