Fall Makeup Color Trends: I'm Obsessed With Purple This Season

Posted 09/22/10 at 02:47PM by Susan Yara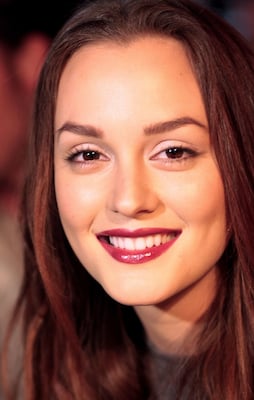 The fall season starts tonight at exactly 8:09 pm PST and I can't be more excited. Why? I'm already starting to see purple -- everywhere, and of all the makeup colors that are "in" this season, it's my absolute favorite.
Let me count for you the reasons why:
Reason 1: Different shades of purple worn on the lips look utterly romantic and sophisticated. Plus, if you're in a hurry and don't have time to put on much makeup, simply dabbing on a berry shade of lip gloss like
CoverGirl Shine Blast Lipgloss in Heat
, $7.14 will make you look pulled together. Like Leighton Meester in this photo.
Reason 2: Purple looks great on everyone's eye color -- green, blue, brown, hazel, etc., because it brings out the gold flecks in your eyes and accentuates the color you were born with.
Reason 3: Speaking of eyes, wearing purple is actually quite easy (and so not scary) because there's lots of options. For the lids, you can sweep on a light lavender color and go. Or you can get dramatic with a purple smoky eye -- swipe on a light grey-colored base shade from lashlines to creases, then use a color like
CoverGirl Eye Enhancers 1-Kit Eyeshadow in Purple Pop
, $3.14 in the crease and at the outer corners of your eyes and blend. Then add a shimmery silver shade under your brows.
If you really aren't into wearing much eyeshadow, another way to take advantage of the purple craze this season is by wearing it as an eyeliner. One to try:
CoverGirl Liquiline Blast Eyeliner in Violet Voltage
, $8.49. You can line the inside of your upper and lower lashlines with your usual black or brown pencil, then layer the purple liner over it for a subtle effect. Or go for a bold purple line if you're more daring.
So what do you think? Are you crushing on purple as much as I am? Do you have a favorite purple shade of lipstick or eyeshadow? Share your tips ...

Our Expert Guides