"Why Fashion Week Hurts My Soul": Baffled by Scary, Bad Hair On Berlin's Runway

Posted by Kristen on July 12, 2010 at 06:52PM

Fashion Weeks come and Fashion Weeks go … and every time I peruse photos from Milan, Berlin, New York or wherever, EVERYTIME, without fail, I have to stop, breath and reassess my "coolness" factor. Below are the pictures that have done it to me this year.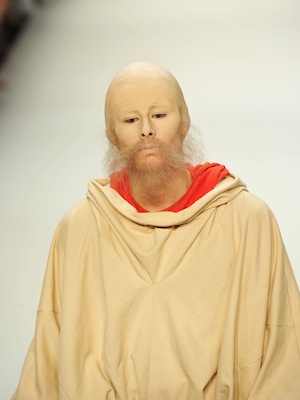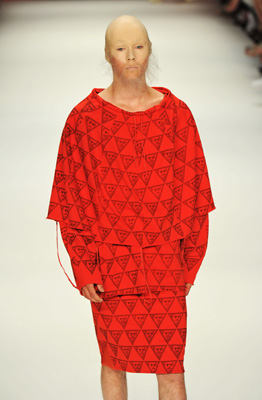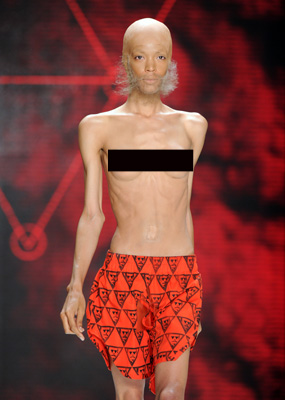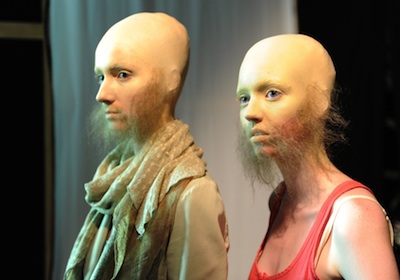 You see, I love fashion, and most of all -- beauty (obviously as I choose to write about it everyday). So I can't help, but feel emotionally invested in makeup trends and hairstyles. And said "emotional investment" provokes me to try, with all my little beauty-obsessed might, to really understand the style culture and embrace all it's bizarro moments. For the most part, I think I get it, or at least I pretend to -- like last Friday night, when I left my comfort zone and rocked black lipstick circa Fall Fashion Week 2008 to a party (see other runway disaster makeup trends here).
But then ... (dun dun dun) the inevitable happens and designers like Patrick Mohr debut their Fall 2010 collections and throw such a gut-wrenching bald and hairy curveball straight towards my sensitive and adoring eyes that I can't help, but cower/retreat/curl up into a fetal position and cry one solitary tear. Dramatic? Yes, but it's just that I want so badly to be "with it" -- to understand fashion on a deeper level. When I see monstrosities like these barreling down the runway, I just feel like throwing my hands in the air and giving the proverbial "I-guess-I'll-never-get-it-shrug."
Please tell me -- am I alone in this bewilderment? Can you shed some light, lend a helping hand, have a sit down convo with me about why this is considered art? I guess for now, I will try some stress reducing tips from a previous post.
• Lost too? These hot runway hairstyles do offer some hope.
• And these insider tips from top runway makeup pros confirm that not everyone from backstage thinks bald is beautiful.
• Want in on a little beauty discount secret? See how to get great deals and exclusive offers on beauty products here.
• Keep up with the latest in beauty -- follow us on Twitter, add us on YouTube and friend us on Facebook.