Blown-Out Hairstyles that Don't Suck

Posted by Kristen on July 14, 2010 at 11:56AM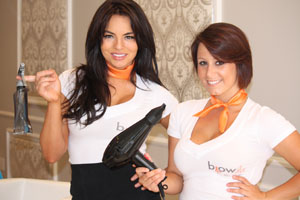 For me, there's nothing better than having someone wash my hair, massage my scalp and then blow dry and style my hair. Every time I get my hair cut and/or colored, I'm always in awe of a salon blow out (here's how to blow dry your own hair like a pro). But now with the rise of blow out bars (salons that don't cut or color -- just blow) we can all get our salon blow outs on anytime we want.
Case in point: The other day I got so spoiled by MyBlow LA, a newly-opened blow dry bar in Beverly Hills. As I was getting my hair washed, I got "The Heavenly Touch" which was, well, a heavenly, 10-minute scalp massage followed by pretty much the best blow dry of my life. It takes about 30 minutes and is only $35 per blow, which is money well spent for me because I loathe drying my hair, it looks fab and lasts me a few days (check out this super cute, perfect-for-summer updo that works well on dirty hair). I'm seriously contemplating finding a way to budget two blow outs per week at this place…
Are you with me on the whole blow dry bar thing? Or do you think is it just a passing beauty fad that's taking away business from traditional salons?
• Want in on a little beauty discount secret? See how to get great deals and offers on beauty products here.
• Keep up with the latest in beauty -- follow us on Twitter, add us on YouTube and friend us on Facebook.