Steal the Makeup Look Sofia Vergara Wears in Her New Diet Pepsi Commercial

Posted by Kristen on April 11, 2011 at 05:53PM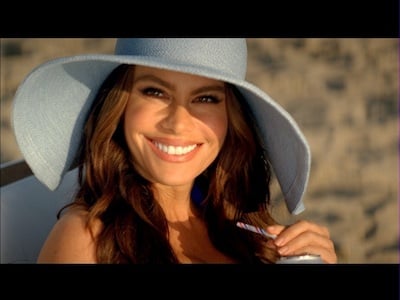 Thanks to one of my well connected family members, I got the scoop on who did Sofia Vergara's makeup for the fabulous new Diet Pepsi commercial, which makes its debut on April 18th. Here's how makeup artist Kayleen McAdams (who is also well connected -- she's Rachel McAdams' sis) created the natural, but smokin' hot makeup look...
"The concept behind the look was a scorching hot day on the beach so we wanted her to look glowy, sun-kissed and a little glisten-y," says McAdams. Here's how to do it:
Skin: "I started by prepping her skin with a liquid illuminator so that her skin would glow and shine through under the foundation. I also used a highlighter on top of the foundation along the cheekbones, temple, bridge of the nose, chin and forehead to add to the glow." Try La Prairie White Caviar Illuminating Cream, $410 and Benefit High Beam, $24.
Cheeks: "To give her cheeks a flush look I used a fuchsia pink blush on the apples of her cheeks." Try Stila Custom Color Blush, $18.
Eyes: "I used a bronze shadow all over her lid to add to the sun-kissed look and then a brown liner smudged along her lashes to make them look even more full and a little glamorous." Try Dior Bronze Palette, $36 and MAC Eye Pencil in Coffee, $12.50.
Lashes: "I love to use Ardell Duralash Naturals Combo Pack, $14. You can buy them at any drugstore and they come in various different sizes. To give that flirty look, I always use two different sizes. I start with medium lashes on the outer corners and then add short lashes from the middle of the eye to the inner corners. Once the lashes were applied and the glue was dried I applied a coat of volumizing mascara to blend Sofia's own lashes with the false ones." Try Flirt All That Lash Volumizing Mascara, $14.
Lips: "[In general] I like nude shades that don't completely match the skin and wash out the lips. Choose a tone [that's] a few shades darker than your skin tone and has some warmth to it. Some of my favorite lipsticks are Nars Lipstick in Belle Du Jour (a good beige) and Nars Lipstick in Mitzi (a sheer rose), $24 each. For Sofia's look, I ... line[d] her lips with a darker mauve pencil to give them structure. Then I used a sheer pinky beige lipstick in the center of her lips to give that creamy, glossy look."
Body: "I wanted to enhance Sofia's gorgeous skin so I used a cream that gives that shimmery glow to the skin. The trick to this look was that we wanted her to look like she was warm ... so I used a dry oil spray by Coppertone to give that glisten-y look with SPF of course!!!" Try Coppertone Continuous Dry Oil Spray Sunscreen SPF 10, $12.27.
So ... what do you think? Are you digging the sexy, but natural makeup look? If so, you might want to scope out this Natural Beauty Lookbook, too.