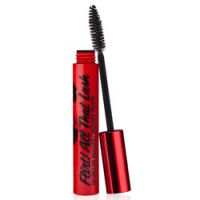 Lashtastic

I love Flirt! mascaras! I have a tube that's running out of the It Curl in black, so I went to Kohls (I have a card and had some other discounts, so I paid 27 cents for this and a body wash. SCORE!). I purchased the blue one of All That Lash. It's more of a lengthening mascara than a volumizing one, at least for me, but still gives good volume. The blue really makes my eyes pop, and don't worry, t...read morehe color looks scary on the wand, but blends in well to lashes as long as they aren't blonde all the way. It would probably show more blue on blonde lashes. I find this one is a little more difficult to get off than my It Curl and the formula seems a slight bit drying in comparison, but both are remarkably easy to remove and have no negative effects on my lashes. Best of all, it never comes off until you want it to! I am horrible at getting eye makeup all over my face if it's a washable formula or glued permanently to my lashes until they break off (every time I've tried a waterproof). Needless to say, I will buy Flirt! mascaras as long as they make them.

Perfect!!!!

I got this at kohls not really knowing what to expect but I tried it out because I'd been wanting a blue mascara and this one was the most perfect, vivid blue I'd ever seen. So I tried it and immediately fell in love. It defines and lengthens your lashes like nobody's business. Also, the blue color I got is perfect! Everyone gave me complements after getting over the initial shock. ("Wait! You're wearing BLUE mascara?!") I will FOR SURE again!!!

Review subject

I wasn't impressed with this mascara. It clumped a lot, and didn't provide the amount of volume I was looking for. Also, it was pretty expensive, considering it did nothing but color my lashes. That being said, it was one of the only mascaras I was able to find that was actually brown, not brownish black or brown/black.

Back
to top