Which Glam Celebrity Makeup Look Should You Try Now?
You've RSVP'd so now it's time to find the perfect holiday makeup look for the occasion
Surely one of the best things about the holidays (you know, besides all the yuletide cheer, family bickering, presents and weight gain) is the great makeup looks you can experiment with. Sorry, didn't mean to channel Scrooge there, it's just that the holidays can be precarious in their merriment. You can't count on anything to go as planned: Cakes don't rise as they should, kids don't always appreciate the gift you stood in a three-hour line for, and grandma won't keep a lid on her disagreeable political views at the dinner table. There is, however, comfort in knowing that there are glamorous makeup looks you can wear to these festive occasions that are capable of lifting your holiday spirit.

Scroll down to start a quiz that will tell you which glam makeup look you should wear now.

And with each new holiday party comes another chance to wear gorgeous seasonal colors like rich mahogany, evergreen, cranberry and glitzy gold and silver. With so many great looks to try, the decision then comes down to which makeup look you should wear to which party. This is a choice worth contemplation, because c'mon, you're not just picking out yet another tie for your dad here, this is important stuff.

Here to help you find the perfect makeup look is Raychel Wade, New York City-based makeup artist, La Prairie Colour Ambassador and Founder of Cheek to Chic. After you answer a few quick questions to determine which look is best for you, she'll tell you exactly how to re-create that perfect-for-your-holiday-party look. This way, even if there's an unpredicted blizzard and you end up shoveling your car out of two feet of snow just to get to the party, you'll still look like a holiday goddess doing it.

The celebs whose look you might be copying: Keira Knightley, Christina Ricci, Eva Longoria and Diane Kruger.
Your Results
Which Glam Celebrity Makeup Look Should You Try Now?
The makeup look you should try now is Diane Kruger's trendy colorful eye makeup look. Here is how Wade recommends copying this look:

Face: Start by applying tinted moisturizer over your entire face and dab concealer under your eyes or on any trouble spots. Then swipe a small amount of a dusty rose blush (like Maybelline New York Expert Wear Blush in Gentle Rose, $6) on the apples of your cheeks.

Eyes: This look is all about the pop of colored eyeliner applied to the top lids. Start by dipping an angled brush into a blue cream eyeliner pot like Makeup Forever Aqua Creme Liner in Turquoise, $20, and swipe it along your top lashlines, extending it out about a quarter of an inch. Add a coat of your favorite mascara on top and bottom lashes and, believe it or not, your eyes are finished. If you feel like your bare lid has an uneven tone, you can dab a small swipe of your concealer all over your lid before applying liner to reduce any redness.

Lips: Finish the look with a lipgloss that has a similar hue to your blush (try MAC PlushGlass in Ample Pink, $18).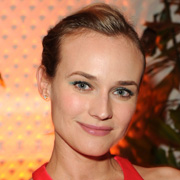 -->