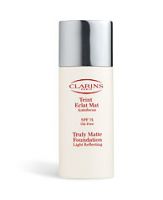 Love it!

I love this product the coverage is great and my skin looks perfect when I use it, it doesn't get shiny if you use the shinestopping powder they sell too! Overall I recommend it to everyone!

Good coverage, might be good for very oily skin.

This gets 4 stars for coverage. I have splotchy red areas on my face and this foundation covered it up no problem. However, it dried out my skin drastically. I normally have oily skin but this foundation dried it out to the point of flaking my skin, even if i use lots of moisturizer first. Even my fingers that i applied the foundation with were dry and flaky, even though I washed them off after. I...read more broke out a few days after using this foundation twice, probably from the dry skin it caused me. Wouldn't suggest it if your skin is dry to begin with or dries easily. If it weren't for that this would be a great foundation.

not great

I decided to switch from my usual Clinique brand. Mistake. This foundation doesn't go on smooth, in fact it looks like you have a layer of foundation on which is certainly not the look any girl wants. I wanted to like this so much so I went back to the counter and tried a different color thinking the lady had put me in the wrong color to start with. That didn't help though. You would think for the price, you would be getting an awesome product, but save your money ladies.