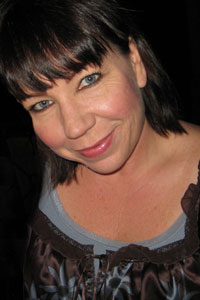 Terri Apanasewicz
Terri is a leading Makeup Artist and Hairstylist known for creating picture perfect looks for celebrity clientele including Cindy Crawford, Debra Messing, Heidi Klum, Gisele Bundchen, Carolyn Murphy, among many others. Terri's overall aesthetic philosophy is to enhance women's natural beauty so that they can be the best version of themselves, rather than wearing a mask. Her makeup is fresh and natural, which illuminates her clients' best assets instead of obscuring their faults. And the hairstyles she creates are practically works of art - they are sculptural, without ever becoming precious.
Terri approaches both hair and makeup with a sense of balance and harmony - literally one stroke of color or the placement of a strand of hair can both transform and contemporize an entire look. Her philosophy has resulted in a loyal clientele of some of the most beautiful and admired people who call upon Terri's hair and makeup expertise for editorial, runway, advertising campaigns, music videos, awards shows, television, premieres and other red carpet events.
Terri's work has appeared on the covers and pages of every major fashion and beauty magazine including "Vogue", "Harper's Bazaar", "Details", "W", "Allure", "Elle", "Marie Claire", "GQ", "US Weekly", "Rolling Stone", "Cosmopolitan", and "Esquire". She has worked with top photographers such as Helmut Newton, Herb Ritts, and Matthew Rolston, and on many advertising campaigns for such top brands as Revlon, Clarins, Levi's, Coca-Cola, Sony, Polo, Laundry, Mercedes Benz, KMS, Salon Selectives, and more.
In addition, Terri is often called upon to share her beauty expertise, whether it is for magazine press quotes, commentary on television shows for makeover segments, or topical chat about fashion and entertainment, she's their "go-to gal." What's more, Terri has recently taught a master education class for the cosmetics firm MAC.
Total Look: Hot Weather Beauty Tips
It's heating up out there and, just in time, Rebekah George sits down with hair stylist Charles Baker Strahan and makeup maven Terri Apanasewicz to get the 411 on the best ways to look pulled together but not overly done up when the mercury's rising. Follow these expert tips to be sure to look your very best (and not sweaty or frizzy in the least) this summer. And, for tips on looking…  

Featuring:
Audrey Fine
Tags: Total Look Videos, Rebekah George, Terri Apanasewicz, Charles Baker Strahan, Spring
Read the comments »
Total Look: Summer Wedding Looks
Watch as our experts give Total Beauty reader Laurie hair and makeup tips for the three very different weddings (beach, Vegas, black tie affair) she's attending this summer. She wants to look beautiful, of course, but there's added incentive -- her ex is going to be there! Want even more wedding tips and ideas? Check out our dedicated wedding channel ! …  

Featuring:
Audrey Fine
Tags: Total Look Videos, Rebekah George, Terri Apanasewicz, Charles Baker Strahan, Spring
Read the comments »
Total Look: Understanding Your Sensitive Skin
Do you take good care of your skin but still experience breakouts, redness and other imperfections? You very well may have sensitive skin. Join in as our host Rebekah George talks to dermatologist Dr. Derek Jones to find out the best way to handle your special kind of complexion. And, as a bonus, celebrity makeup artist, Terri Apanasewicz, chimes in with the best approach for cosmetics when…  

Featuring:
Audrey Fine
Tags: Total Look Videos, Rebekah George, Terri Apanasewicz, Dr. Derek Jones, Spring
Read the comments »
Total Look: Springtime Makeup Bag Overhaul
Spring cleaning isn't reserved only for closets, garages and muck rooms. The new season is the perfect time to weed out all your old makeup items and make room for a new batch of hot colors and products that're clamoring to be incorporated into your routine. Watch as Total Look host, Rebekah George, chats with industry experts about the things you need to keep (and get) for your makeup bag.…  

Featuring:
Audrey Fine
Tags: Total Look Videos, Makeup, Rebekah George, Terri Apanasewicz, Charles Baker Strahan, Spring
Read the comments »
Total Look: How to Look Pretty While Exercising
Ok, so maybe makeup isn't really top priority when it comes to work up a sweat, but, let's face it, you do want to look at least semi-cute, right? Here's where the experts come in. Follow their advice for inspired hair and makeup tips and you'll find yourself looking just as good as you feel.…  

Featuring:
Audrey Fine
Tags: Total Look Videos, Body, Rebekah George, Terri Apanasewicz, Charles Baker Strahan, Ashley Borden, Spring
Read the comments »
Our Expert Guides