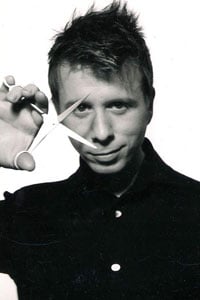 James Corbett
As the owner of James Corbett Studio & Spa and one of New York City's fastest rising beauty experts, James Corbett is dedicated to helping every client embark on a personal beauty evolution. Known amongst beauty editors as a "secret weapon" for the depth of his knowledge, James is frequently quoted in the top national beauty magazines in the country.
James grew up in the suburbs of New York City where his creativity became apparent at a young age. Starting to highlight his own hair in junior high, while donning penny loafers and silk-screened Marilyn Monroe t-shirts, James displayed way too much style for his northern Westchester hometown. Fortunately, the cultural and fashion Mecca of New York City was just an hour away, where James would eventually make his home and launch his career.
James' experience began with famed colorists like Louis Licari and Frederic Fekkai. He has since worked with many top industry professionals including Beth Minardi, Philip B., and Jose Eber. James utilized these techniques and experiences to create his own unique identity in the active world of color.
After years of perfecting his craft as a master colorist at the top beauty emporiums in New York City, James followed his dream to open James Corbett Studio in May 2007. He quickly expanded to open The Spa at James Corbett Studio in November 2009. His vast experience groomed him to be one of the top colorists in New York City, earned him recognition as one of the country's top colorists by "Allure" magazine, and helped shape his beauty philosophy that is applied at his hair studio and spa every day.
Our Expert Guides