featured hairstyles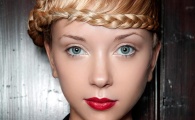 Most women are constantly looking for new hairstyles -- whether it's to reinvent the way they look or for a special occasion. Each person is different, and choosing the right hairstyles to fit them will depend on the person's face shape, hair texture, and the occasion. If you're planning to spend the day at the mall or hang out at your friend's place watching movies, then you'll want to choose hairstyles which are relaxed and casual, and easy to maintain. On the other hand, occasions like weddings or prom demand more elaborate hairstyles, like beautiful updos that are elegant and complement your dress and accessories.

The right hairstyles can accentuate your best facial features while downplaying any flaws, redefining the way you look. The shape of your face can help determine the kind of hairstyles that will suit you best. For instance, if you have a round face, you might consider wearing your hair long to minimize the width of your face. However, if you have a longer face, you'll look great in hairstyles that are short with sweeping bangs which will give a wider appearance to your face.

To choose a cut that will best suit your style, look at pictures of other women who have similar faces and features to you, and who also have hairstyles that you like. More importantly, choose hairstyles that will help you feel comfortable, even if you're not conforming to all the rules.

With step-by-step instructional videos and articles on hairstyles at Total Beauty, you'll get expert advice and plenty of tips on hairstyles that are easy to create. You'll have lots of new hairstyles to discover each week, so you can create the look you want whenever you chose.