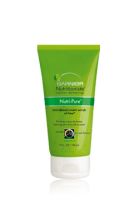 Editor's Rating & Review
Good things come in green tubes. Those worried that this fragranced cream will irritate their skin may be surprised when it has the opposite effect. The thick cream feels like a less greasy, slightly sticky Pond's Deep Cleanser Cold Cream going on, but rinses off as easily as a typical gel/liquid cleanser. All traces of (non-waterproof) makeup vanish, though the light fragrance lingers. I didn't feel "detoxified," but my skin felt hydrated enough to skip the moisturizer.
Reviewed by Charli on 09/24/2007

How we review products
AH!

It broke me out! I can usually use any face wash, lotion, makeup etc. but this gave me so many pimples. I used it for about a week to see if the break out was just a coincidence but nope, it was because of this. I liked the smell and how it felt on the skin but obviously not worth it because it made my skin worse.

This product doesn't rinse off all that clean and its scent is bothersome !

This product has a sorta thick consistency which is why it doesn't seem to rinse clean off my face! As, instead seems to leave behind a film behind on the skin. I don't care for overly scented poducts. And, this product's scent is too over the top for my sinuses to take.

Prefer this over most others

I've used this product for 2 yrs., and so far, still like it better than any other products I've used. My face feels clean, but not 'scrubbed' after using. I would recommend this product.
Back
to top