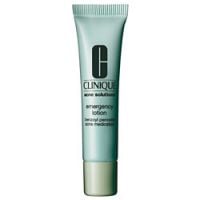 Still not sure

I like that this is only 5% Benzoyl Peroxide, because 10% is waaay too strong for me. Typically I use Neutrogena's On The Spot cream which is 2,5 percent benzoyl peroxide. However, I must be honest and say that I'm not sure that the little extra strength of this product as opposed to my normal product is any more effective. My skin seemed to clear up much faster just with my normal cream than with...read more this, but I haven't experienced any extra dryness which is typically associated with higher strength benzoyl peroxide.

Eh...

I have a sample of this and I'm just not in love with it. I use the Clinique spot treatment gel, which is similar to this, and I like it (the gel, not this) much better. This product calls itself a lotion, but I've found it difficult to spread over my skin. For having "lotion" in the name, I don't find it to be moisturizing AT ALL. I also don't think it works nearly as well as the gel does at trea...read moreting and preventing acne breakouts. When I went to Sephora to buy a new bottle of the gel, I picked up this gel lotion by mistake and I promptly returned to the store to exchange it for the correct product. I'm just not impressed with this one.

Exclusively from the editors at Total Beauty

Get the Buying Guide to see these top-rated products!

Get it now »

The best ever

I've tried many types of benzoyl and this is the best. I use the spot treatment gel as preventive daily, but use this when I have the occasional breakout and need tha anti-bacterial properties of benzoyl peroxide.
Back
to top