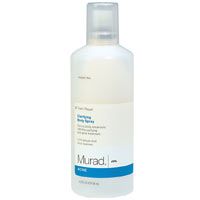 Expensive, but effective

I had a couple of breakouts on my back that were driving me nuts, so I purchased this on-line from Sephora. So many people who'd used it complained about the smell, but the smell just reminds me of Stridex pads. No big deal, the smell does not bother me in the least. This stuff is effective and the many times I thougt I had a breakout that was actualy a mosquito bite, well, this product saved me f...read morerom the insane itching that is difficult to reach. I only use it once in a while now, but I find it overall to be an extremely effective product, I love that it reaches all of your back without you having to be a contortionist, and that the bottle has lasted me what seems to be an extremely long time. No one should hesitate to try this, whether their breakouts are major or minor.

Good product

A little expensive for everyday use, but between a back scrubber and this product, I keep my acne-prone back blemish-free during the summer. I started using this right before I was a bridesmaid in my cousin's wedding and it worked so well that I always keep some on hand now. My 16-year-old brother broke out in "bacne," as he calls it, over the past year and I bought him some of this to use and ...read morehe cleared up completely. The sprayer works really well in all directions--upside-down, sideways, etc, so you don't have to get someone else to spray anywhere awkward for you. It feels a little cooling when you put it on, but not in a bad way. It's similar to the old Clinique acne spray that they discontinued, and I actually like this one better (even though I LOVE Clinique), simply because the bottle itself is designed well. It seems to last a decent amount of time, but I don't use it all year, and definitely not every day when I do use it (because I feel like it might dry out my skin), but overall it's a really great product.

Exclusively from the editors at Total Beauty

Get the Buying Guide to see these top-rated products!

Get it now »

I loved it!

This product really works. I noticed a difference in my skin after only a week of use.
Back
to top