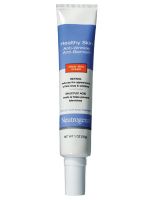 Best face cream ever!

I don't know if they even still make this cream because I haven't seen it on store shelves for YEARS, but this was always my favorite. I used it consistently for several years and it made my skin look so amazing. I was in my 20s, so I didn't have a lot of wrinkles, but my skin was still noticeably smoother and more even when I used this. It also worked WONDERS on breakouts--treating existing acne,...read more and preventing new acne. I only used it at night because I have oily skin, but the one application a day always kept my skin looking amazing. The active ingredients never dried out or irritated my skin, and when I was careful to only use as much as I needed, the one little tube would last several months. I was really sad when all my local stores stopped carrying it and if I ever see it again I will definitely purchase again.

works for me

This is the only product I've found that combines anti-acne and anti-aging ingredients that actually does both for me. It can be a bit irritating when you first start using it, and you only need a really small dab, so the tube lasts a long time, but it does keep my face clear and it smooths out the fine lines. Until I found this product, I had to resign myself to either treating the acne or the ...read morefine lines, but not both, because products for the acne exacerbated the lines, and anti-aging products made the acne worse. I only use this product at night, because the retinol is strong and sun exposure can make your skin red. I also don't use this on my neck, since I don't really break out there and was getting red, irritated skin when I did use it there. It works well on my face, though, keeps the acne away and smooths the wrinkles, so I use this as my night cream, and I use a separate moisturizer for the skin on my neck. I hope Neutrogena never changes this formula, because I've never found another product that works as well as this one for me.

No good for me

I was very happy to find a product that would address my aging concerns but also take care of my sometimes adult acne. I used this with the Deep Clean face wash. After only 1 application, I had to stop using it. It left my face dry, itchy, irritated, and made my already there blemishes worse. I found it to be such a waste of money. I love some Neutrogena products, but have never found one for my face that works for me. With the exception of the Dry Touch Sunblock.
Back
to top