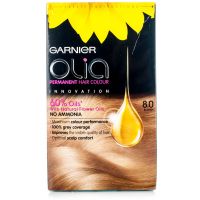 NOT Good, Garnier!

I have a small amount of grey at my temples and roots, but it is very stubborn. I would pull it out if I didn't fear bald spots on my head. At the same time, I absolutely DESPISE coloring my hair because I realize that I am damaging it. Garnier's "Olia Oil Powered Permanent Color" seemed the perfect solution--I could cover the offensive grey without ammonia and its irritating smell and harmful ...read moreside effects. Oil would permeate my hair shaft and infuse the color in a much more gentle way. I was wrong! The bottle was too large and awkward for me to work with it. I wound up using an empty professional coloring bottle from the linen closet (what were you thinking when you designed this, Garnier?). This is a nicely-scented, non-drip formula, and I used it as directed. My hair was soft, but no more soft than with Garnier's regular formula. The vivid, multi-tonal color that I normally have after coloring was missing--the shade was flat. Worse yet, grey coverage lasted less than two weeks, and that is with extremely gentle treatment of my hair (I only wash every two or three days, sleep on a satin pillowcase, deep-condition regularly, let hair air dry whenever possible, etc.). Of course, it was more costly than the regular color as well. I hope they do away with this--it simply doesn't work!

Decent

This is the very first haircolor I've ever used, so I don't have much of a comparison, but overall this is a decent product. The pros are that the smell is actually really nice, and the included conditioner is absolutely amazing. It is THE best conditioner I've ever used, and I'm a beauty junkie. It made my hair so shiny and soft. Another plus about this product is that they give you plenty of pro...read moreduct, enough to cover my medium-thick long hair. The things I don't like about this product is that the part when you have to cover the hole with a finger and shake the container well is tricky because my hands are large enough to do that and the plastic container and gloves make it slippery. Also, the creamy mixture is hard to distribute evenly through my hair, though the outcome looks even. These are pretty minor complaints, though. The only major complaint I have with this product is the color coding. My "after color" hair looks a lot darker (blacker) than what's on the box. While I wasn't looking for drastic change so I'm not angry or terribly disappointed, I did expect better color accuracy from a reputable company like Garnier.

Garnier Olia Oil Powered Permanent Color

I've used Garnier hair dye three times now (twice red, once dark brown),only had positive results. The product is alcohol and bleach free, which I love, and the conditioner that comes with the product is actually the best conditioner I've ever used. The only reason I didn't give this dye a 10/10 is that it took almost two weeks for my hair to stop dripping dye in the shower and I ended up ruining ...read morea few good towels in the process. Oddly enough, this only happened with the red dye, not the dark brown! But aside from this little issue, I couldn't be happier with my hair. The color is incredible and exactly what I wanted and there's no post-dye frizz or dryness (my hair actually looks healthier somehow...).