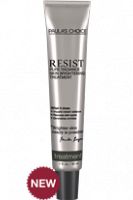 Paula's Choice RESIST Pure Radiance Skin Brightening Treatment
As low as
Simply Did NOT Work for Me

Paula's Choice is a very reputable company with prime, highly effective ingredients. I love the line and the advice Paula gives, especially via her videos as well as in her books and online site. I have been bothered with a few tiny brown spots on my cheek and a smattering on one hand. I tried several products, but nothing has made them disappear completely (the one which worked best was Pond's...read more "Clarant B3 Moisturizing Cream"). Paula proclaims: "This technologically advanced brightening formula contains a proprietary complex of proven vitamin- and plant-based ingredients that fade brown spots and refine skin tone so you'll have a more radiance and youthful appearance." The ingredients to which she refers are wonderful: Sodium Hyaluronate, Glycerin, and Mulberry and Licorice Extracts and Niacinamide (the chief elements to break down and clear away discolorations of any sort, as they inhibit melanin production). It is a silky, lightweight creme. I was surprised that the tube was so small for the price ($26.95), but I assumed that it was so powerful that I wouldn't need a larger size. I used it exactly as directed on my face and on my hand for over a month. It is a smooth, slightly opaque creme with no scent very easy to wear. The tube makes it easy to dispense just the perfect amount. The problem? My brown spots did NOT disappear. I am very fair and the spots are not dark at all (I'm probably the only person who notices them and by which they are bothered). After I finished the first tube, I (wrongly) assumed that the fault had to lie with me, that this product absolutely, positively had to work as proclaimed, and so I purchased another. I used it in its entirety, and the discolorations remain(!). I hate to give a low rating to an item from such a prominent, wonderful company, but we tell the truth at Total Beauty.

You need to be patient

I used this treatment on my post acne red marks -the ones that stay with you as a reminder that you have acne even after the blemishes are gone. I used it on it's own for about 7 weeks. I thought it didn't do much for me so I took advantage of the money back guarantee that all PC products come and I sent it back. I used the credit store they gave me to repurchase it because I thought maybe it migh...read moret work after all. I reordered it and I also purchased the Resist C15 -vitamin C 15%. I used it twice a day mixed with Resist C15 for about 8 weeks and man I was amazed. It seemed like the Vitamin C gave it a boost. I really believe that it might've worked on its own if I was patient but since I wanted to try the Vitamin C serum, I used them together . I don't use it anymore but I might go back to it because now I can see the benefits even better. You know what they say - you only know you love it when it's gone.

Just starting this new product

This is one of Paula's newer products as of the middle of 2012. I have been using this product once a day for the past 3 months and let me just say that it DOES AS IT CLAIMS!!! It faded the spots on my face left from 10 years of tanning bed usage and oddly it also seemed to brighten my skin, giving it a "lit from within" look. If you are looking for a speciality product in this category, you should look no further. This is truly a jem!
Back
to top