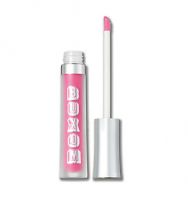 Buxom Big & Healthy Lip Cream
As low as
Most tingling lip gloss ever!

I wouldn't necessarily call this a "lip cream." It's more of a lip gloss that kind of reminds me of the ELF lip gloss that I do not like. It has the same minty smell and tacky sticky texture but not as bad as the ELF one. I like minty lip products and this is the first lip gloss that I've tried that the tingling sensation still lingers after a long time which is a plus for me since I feel like my ...read morebreath smells better with this on. Most other products I've tried the mintiness would just go away after a short period of time but not this one. I got a deluxe size of this in White Russian and it's a nice nude color but I hardly ever reach for this because it is quite sticky. This smells like cupcakes or some kind of dessert which is weird because I'm expecting a peppermint smell. I don't know if this is suppose to plump but it sure feels like it.

Disappointed

I bought this in 3 colors, Bellini, Rose Julep and White Russian, because I do like the buxom glosses. I expected it to be more of a cream and more color than the glosses. It isn't. In fact barely any color. The Bellini and White Russian were indistinguishable from both each other and my lips. The Rose Julep was the only one that wasn't essentially clear. I like the tingle, plumping effect, ...read morebut found it wasn't as profound as the glosses. I wouldn't purchase these again, and think they were a waste of money.

Absolutely worth the price!

Ive been searching for a nude gloss without any shimmer or glitter for awhile. This gloss is the best it,plumps, smells yummy and warm. The great aspect of the gloss is that, it's not stick and gooey. I purchased the color in White Russian, and it's perfect for all lip shades for that natural look,or even to tone down an other brighter color. I also love that it moisturizes my lips through out the day!
Back
to top