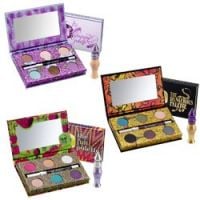 Dangerous

If youre looking for a smokey eye palette look no further. The dark hues are intoxicating. Perfect for date night. Urban Decay has the best shadows with the most stay power!

Feminine Palette Review

I also have the feminine palette and overally I am happy with it but I do have a couple of complaints. First, the shade "Midnight Cowboy" (also one of UD's most popular shades) has CRAZY fall-out. There's no avoiding it. I will try to find an even stickier primer than I already use but I always end up with silver glitter under my eyes and on my cheekbones when I wear it. Ugh! My other complaint is...read more the shade "Ecstacy". It's a pretty bright purple with a undertone in the pan but swatched it's very sheer. Surprisingly sheer for an Urban Decay shadow. Shocking, huh. You can get a pretty good amount of opaque coverage if you keep on layering it but nonetheless the shade is an anomaly in the UD eyeshadow range. Other than that, the other shades Stray Dog (a medium, cool, shimmery ashy brown), SWF (a light, frosty bubblegum pink), Aquarius (a pretty shimmery mint green that pulls a tiny bit teal) , and Darkhorse (a dark, warm brown with gold shimmer- this shade is also in the original Naked palette). The Feminine Palette also comes with a mini Zero eyeliner which is just a basic black and a mini primer potion in Eden (a matte yellowy nude color). This palette is versatile and great for travel but I just wish Midnight Cowboy and Ecstasy were better quality.

Great

I have the feminine pallet and I love it! As with all urban decay eye shadows the pigmentation is amazing and I think the packaging is cute with the peacock feather. I have hazel eyes and all of the colors look AMAZING. I only have a few complaints- one is that urban cowboy is too glittery but oh well, all the other colors are so stellar that they more than make up for that. Also, I would have rea...read morelly liked to have had some kind of brush included with the pallet so that I don't have to remember to pack one in my purse. Eden is my least favorite of the primer potions but I have learned it works pretty well as a concealer in addition to primer, and even my least favorite is still a fantastic primer. The greatest thing is I got this on sale! I totally recommend buying this pallet!
Back
to top