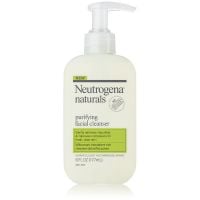 Naturals...love it!

Just picked this up last week, and so far...love it! It's very soothing and feels great on the skin. It lathers nicely and rinses clean, and leaves the skin feeling soft and smooth. I especially liked that the ingredients on the back are all natural, recognizable, and have their sources clearly identified. The scent is very pleasant too. This one is definitely a winner!

Quite great!

Normally I use Philosophy's Purity face wash, but that is extremely expensive per bottle so I tried searching for cheaper alternatives. So far I'm liking this! I remove my makeup with removal cloths prior to washing, but this does a good job at removing anything I may have accidentally left behind. My skin feels smooth and refreshed after use and I haven't had a problem with my skin becoming dry. ...read moreUnlike the Purity wash in which I only had to use a little, I need to use more of this. Regardless, I'm still very satisfied because it does what it claims to do (and more!), but is far more budget-friendly.

Okay but too drying....

I have oily skin so it comes as a surprise that this dries out my skin so bad i have to apply a moisturizer afterwards before i go to sleep. It doesnt lather well and i have to use a lot just to cover all areas of my whole face. It absorbs quick like a toner which is weird knowing its meant to be a cleanser. This is the first Neutrogena face wash that doesnt make me break out. I guess the natural ...read moreingredients are really working. I notice a lot of people saying the dispenser is broken when really its not. I thought so at first too when i pressed down on the pump and it was stuck. You have to unscrew it, take the pump out then twisting the pump head and holding the stick, you twist in opposite directions until it works. Hope this helps! I got mine to work.
Back
to top