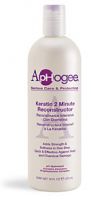 Practically A Miracle-Worker

I LOVE this product! I've been highlighting my hair for 11 years and heat-styling it daily for almost 20, so my hair's pretty damaged. I've used dozens of deep conditioning treatments, and nothing comes close to this! The first time I used it, I left it on for about 7 minutes in the shower with a cap over it (so the heat would make it really sink in), and I was AMAZED at how soft my hair felt. It ...read morefelt a bit thicker, too, and it didn't feel at all like my hair was coated with some heavy product that weighed it down. Oh, and it smells great. I'd recommend this to absolutely any woman.

love

I have naturally blonde, curly/wavy thin hair. My hair gets very light in the sun so in the fall or winter when I can't stand my naturally darker blonde roots showing up I always break down and color my hair. I do color it to match my roots. I only do this about twice a year but that's enough to do major damage. I also was straightening my hair a couple days a week. A couple of years ago I noticed...read more clumps of hair falling off, some was just breakage but most was straight from my scalp and I had thin and bald spots!! My curls were frizzy and out of control and I could barely get a comb through them. I was searching for anything that might help and came across the Aphogee Keratin 2 Minute Reconstructor. I washed my hair and toweled dried it then massaged the product through my hair and into my scalp. I put on a shower cap and spent 2 minutes blowing the hair drier on my head. When I was rinsing my hair I could feel the softness. My hair when wet, even when normal conditioning is rough and tangled. Now it was soft and I could run my fingers through it. I wrapped my hair up in a towel and went to the mirror. Normally my hair looks like a troll doll when I pull the towel off. This time it hung down in nice curls. I was able to get a comb through with no tangles!! When my hair dried it was soft and curly and no frizzy bits everywhere. I was thrilled!! Often I leave the conditioner on overnight or for an hour. My hair always looks great afterwards. It wasn't long before I noticed that I no longer was shedding. Fast forward a year and my thin and bald spots are filled in, my hair is long and curly and soft. Whenever I notice dryness, the frizzies or have a hard time combing I get out the Aphogee. I also use this on my son's curly thick hair. His hair is naturally coarse and this softens it wonderfully. Sometimes on both of us I leave a little in without rinsing and let hair dry naturally. It is not greasy at all.

Didn't See Results

I used this after bleaching and toning. I didn't feel like my hair was stronger or more moisturized I'm willing to give it another shot though. It may take several uses. It has good ingredients, but smells awful.
Back
to top