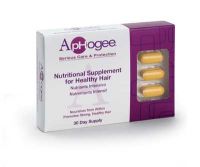 Where can you buy them? An answer to Connie who posted on 1/26/2014!

I have not tried these, but based on the ratings listed here, if they are not very expensive, I would be very willing to try them!!! Now to answer Connie's question, "Where can you to buy them"? If you go to their website, "ApHogee.com", it says they can be purchased at any, "Sally Beauty Supplies" store. Which you can look up the closest one to you through their website, or you can by them at ...read more"SallyBeauty.com"!!! A 30 day supply cost $11.99 (about .30 cents a day or per pill), doesn't sound to bad if they work & you can afford them!!! I think it's worth trying at least for a month or two!!! I will post a new review after I try the product!!! God Bless & best wishes to All!!!

Hair vitamin

Does anyone know where to get this vitamin ?

stopped but started again!!!

I was introduced to Aphogee hair vitamins in November of 2012. I was amazed after two months how my hair became smooth feeling and grew longer. I had minimum breakage and I was excited. When I went back to order more, the store was out of them. So I went online and the price was outrageous!!! So I tried another hair vitamin. Bad choice!!!! My hair started to break again and felt like it was dirty...read more all the time. I had to go back to Aphogee although the price was high. I am hoping the price goes down or there are coupons somewhere to help with the cost. Other wise, these vitamins work!!!!
Back
to top