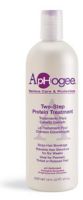 It was ok

I used it for a period of time because they told me my hair was damaged, but I didn't see the improvement. I think its overrated. You get stinky hair for nothing. It works just as well as a regular condition to me.

Does what its supposed to do.

ApHogee should NOT moisturize! If that were the case then oil particles will compete with the protein for access to your hair, ineffective. Use ur own deep cond. after their cond.

Instant transformation

Stopped my breakage immediately. PERIOD. My hair was bouncy and healthy looking after much self-inflicted damage (lightening). Lasts exatly 6 weeks.
Back
to top