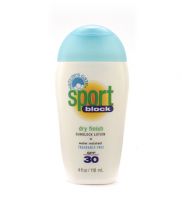 Good stuff

I recently tried this from a friend who brought it to the beach. I really liked it. It didn't feel greasy or like it was running off of my as I sweated and it didn't have any fragrance. I'll buy some when I finish the bottle of babana boat I have now.

Surprisingly non-greasy

I tried this after using several other sunscreens that turned out to be WAY too oily for me. This was exactly what I was looking for--it doesn't leave much of a greasy sheen at all. The only downside is that it doesn't spread as easily, but it's not really much of a problem. I would buy this again.

For Serious Sunscreen Lovers

They've repackaged from this photo, but this stuff doesn't rub off at all! I think it's micronized zinc, so it isn't lifeguard white, but there is a pearly sheen it leaves behind. No sunscreen scent either!
Back
to top