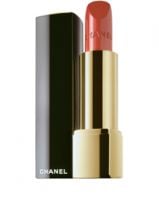 Editor's Rating & Review
This rich, hydrating lipstick has a subtle rosy scent and resembles fine French cuisine: praise-worthy presentation (the logo is etched on the lipstick), small portions and rich results. Lover, one of more than 30 feminine shades, is the only red I'll rock. (Katherine Heigl wore it to the 2007 Emmys.) Color doesn't last long -- that's Dior's department -- but the hydrating, satin finish and innovative, push-bottom case make reapplication fun.
Reviewed by Charli on 11/20/2007

How we review products
Satin Finish Resulting To Sand Papered Lips

I have a couple of these and found that having Chanel's prestigious name doesn't have anything to do with their lipsticks because these are fairly adequate to use, however, such a shortcoming in luxury quality. It's a price to pay to have the elegant Chanel logo but is it worth it? As my lips exposed peeling, chapped skin while wearing this lipstick the unflattering sight was magnified. Althoug...read moreh a cream lipstick, this doesn't do much to assure the wearer a comfortable wear as throughout the day, I found my lips in need of emollients to soften them and hydration. I'd suggest a balm worn under this to maximize the wear and reduce the dried and cold look from the lips such as Carmex or Blistex as they soothe the extra layer of skin that can be further buffed off by the wear of this lipstick. The color payoff is beautiful but I found the deeper shades short of pigment and left nothing but a sheer tint equivalent to a gloss.

Chanel

Makes my lips soft

My favorite lipstick

I have this in a gorgeous pink shade called "Romance". It's hydrating and the color applies beautifully. Plus, it's long-lasting. Love it!
Back
to top