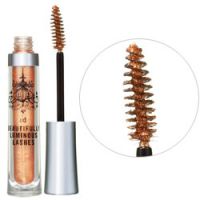 Not Impressed

Quite surprised that I wasn't crazy about this product. I usually LOVE all products by this manufacturer!

just a suggestion ;]

hmm, might i suggest, put your black mascara on BEFORE applying this one, keeps your lashes cute, but with a gold shimmer;] no stress not mess, right? :]

Not really my kind of thing

I bought the one in Bronze as I wanted to try it for fun. Can't really say it's my type. The idea is to put this on top of your existing mascara or by itself (tried it both ways) to give you a glistening effect to your lashes. I wanted to use it when going out at night ONLY, as I don't like wearing glittery stuff in the morning. Suffice it to say, the glitter was too subtle I really didn't see...read more the point to it. The only time you can really see the glistening effect is if you're looking real close. I guess it's my fault for expecting more.
Back
to top