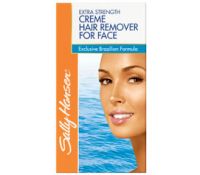 Tried this. Once.

I hated it. It didn't fully remove the hair on my upper lip. It smelled horrible and burned after a while (and I have normal skin that's not sensitive). My then-boyfriend kissed me and asked if I'd shaved my upper lip -because the product didn't fully remove my hair! *groan* Too embarrassed to use this again!

Low hassle and (relatively) pain-free

The good: Aside from a minor prickling sensation, this product gave me pain-free hair removal. It's easy to use and the process is quick. The directions said not to use it on your eyebrows, but I did anyway and even my sensitive skin didn't get red or break out. The bad: It's still a hair removal cream. It smells nasty and didn't get some of the thicker hairs on my brow. But it's over in three minutes, which puts this product at the top of my depilatory list.

Pretty Good

This was my first time using a creme to remove my facial hair. It removed all of it. The smell was gross and after it left a strange sensation, not pain, just it felt weird. I thought it was pretty good.
Back
to top