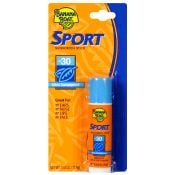 Good for my large scar

I have a large scar on one of my legs and this stick is good to get a concentrated amount on it. It covers and protects well.

great for the face!

I get burnt the easiest on my upper cheeks, nose and eye lids. this stick clings very well to my facial skin. this is not ideal for the rest of the body and sand will stick as well. but if you like tanning like me, this is perfect for protecting the face and even your lips!

WoW I love this stuff

I went to Water World last year and I had some of this in my back pack and I kept applying it whenever I needed it and I never got burned at all and its a very convenient size.
Back
to top