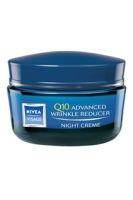 Inexpensive and effective

At eleven dollars this is both more effective and less expensive than I had suspected. It is thick so it really works well for overnight without causing breakouts.

Reduced nothing

I used this for about 6 months and did not see ANY reduction in wrinkles at all. Also, it smells strong and "mediciny". It was a decent enough moisturizer, but it does not live up to its claims and not worth the price. The jar is pretty, but that was pretty much all I could say I actually liked! Nothing "advanced" about it at all! Waste of money.

Love this cream--how to replace?

Can anyone help me? I love this cream and the sister-day cream. Now that Nivea is not selling them in America I've been looking for a new cream. I can't find a replacement as rich and creamy--has anyone found a good replacement? Help me I've tried 10-12 other products and I am wasting my money!
Back
to top