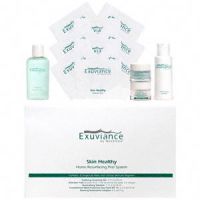 Gentle

I use AHA and BHA products daily and skinceuticals retinol .5% every other night. I did not have any problems with irritation from this system. It contains nine 25% peel pads, cleansing gel, and a neutralizing lotion. Really, I did not need the neutralizer as this peel is very mild compared to using glycolic acid or lactic acid peels. Mandelic acid which is in this peel, is much milder than glycol...read moreic acid. I use this kit once or twice a week. I will continue to use it as it works with everything else I am using. The kit also comes with a 30 day supply of day and night cream. I would say that this is a great kit for those sensitive to high percentage glycolic acid peels or for those new to peels to give it a try. The acid peel is a 35% solution containing 15% mandelic acid, 5% glycolic acid and 5% gluconolactone acid. All products in the kit contain paraben preservatives. Update: I noticed that this kit for an unheard of price of $34.95. I paid around $58 for my kit.

A product that really delivers what it promises

I bought this system on HSN about 5 years ago. Right after using it I had a male neighbor who does not care about skin or know squat about resurfacing your face, Give me a HUGE COMPLIMENT about how my skin was glowing and very BEATIFUL that day. After I picked myself up off the ground I thanked him and ran home to look in the mirror. I WAS GLOWING & my skin was LUMINOUS. I went online to order a...read more boatload of Exuviance skin resurfacing system from HSN. OH NO IT WAS NOT ON THEIR SITE ANY LONGER. I called them up & all they said was it's the D WORD. OH NO TELL ME I'M HAVING A NIGHTMARE "DISCONTINUED" How could this happen???? I have been looking for this product since then [GRANTED I DIDN'T PUT OUT AN APB} but I did look for it . HOORAY THEY STILL MAKE IT. I have to now buy that boatload BUT THE PRICE IS 3X what I paid at HSN so maybe I can buy 1 or 2 . OH well This is a TERRIFIC PRODUCT and any one who wants to have more beautiful skin should RUN not WALK and order/buy it. Ihave thousands of dollars worth of skin care that needs to be thrown out SO I DO KNOW WHAT I'M TALKING ABOUT. This is in the top 3 items that are my holy grail and you get IMMTEDIATE RESULTS when you use it BUT IT BUY IT & NO I HAVE NOTHING TO SO WITH THE COMPANY, I just want to sing the praises of a product that REALLY WORKS. It's easy to use ,just takes a few minutes and your skin will love you forever. Gail fom Staten Island 54 yrs young

My absolute must have beauty product

I love this stuff. I tried the MD Skincare daily ones first and they did NOTHING and cost more. I use these twice a week (I have alot of moderate acne scarring) and my skin already looks way better after 2 months. Lines softening, pores and acne scars diminishing. One pad does my face, neck, chest (sun damage) and the backs of my hands (bye bye age spots) If I had to economize, I'd give up my face creams before I'd give up this.
Back
to top