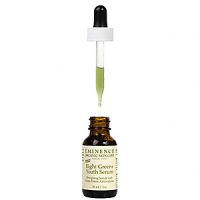 Eminence Eight Greens Youth Serum
As low as
Really like the product and price is worth it.

Okay before Eminence and was a Skinceuticals girl all the way. I still am, but my spa uses Eminence in there facials and I was BLOWN away by how I felt, looked and the smell of my facial. Well of course I bought all the products in the dry skin line and most in the anti-aging. I've tried 3 serums and like them all, but the Strawberry rhubarb I LOVE the most. The cost is cheaper than CE Ferulic, ...read morebut I'm not sure it works as good as Ferulic, but it does works good enough, especially for being half the price, though they do recommend you use it 2 to 3 times a day, as where skinceuticals is only needed 1 time a day. hmmm..depends if your wanting to spend $45 or $105 on the day you shop.

I want to love it but I just really like it a lot

After having a facial at a spa that uses Eminence products, I was blown away at the quality of their products and the results I saw - immediate and over the long term. I use many of their products and love them. I want to love this serum but I do really like it. I'm glad to have it and feel like its giving me good results as a part of my skin care routine but when I've used it up, I'm going to tr...read morey another Eminence serum before I'd buy this one again. It's stickier that other serums I've used in the past so I don't use it in the mornings, only at night.

Great!

I have used a lot of serums and sometimes i have wondered why but this has stopped me from wondering, i love, it does what it promises and does not cause me to break out and you only need a very little, i have found absolute winner in this line of skincare.
Back
to top