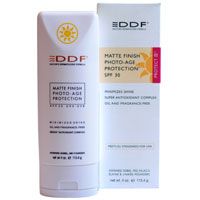 Sunscreen champion!

The DDF Matte Photo-Age SPF 30 ranks high on my SPF list. It really does stay matte, it's neither sticky or thick, provides adequate protection for a normal day, and I've never had a breakout issue from it. I notice no scent, and I think the price is fair for the quality. It is the only sunscreen I can convince my husband to use on a daily basis-- so that fact alone gets it a 10 in my book. On...read moree bottle will last the two of us quite awhile so I don't find it hurts the beauty budget at all. One of the best I've tried!

Horrible - rubs off into little white flakes

I couldn't believe this product! You think its going to be this great coast of protective goodness, and then once you apply it, and then rub in all the white goodness- IT TURNS INTO WHITE RUBBERY FLAKES. These flakes don't fall off into the breeze, they clump up on your face. Totally LAME. Do not waste your money.

Nope.........

I thought that I finally found a sunscreen that wont make me look shiny but there is a catch. It had sort of matt finish but gives you a white cast like look. If you rub it too much on your face to blend it in then it comes off like little balls very annoying. I wont be buying it , neither will I suggest.
Back
to top