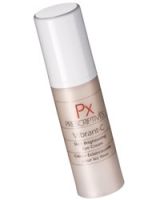 Bright Eyes!

This is the best eye cream I've ever used! After applying make-up I dab a little under each eye and you're ready for anything! It works much better on top of your foundation. It's like finding that perfect lip coulour, this is the perfect eye "brightener!" I apply first in the morning, but I take it with me everywhere for when I need a little, "pick me up." The first time I tri...read moreed it my husband said, "Your eyes are beautiful! You look really refreshed!" Hey, after 28 years of marriage, that's saying something!

In place of a concealer

This is kind of a double duty product it has some light diffusers that kind of give it a light pink color, my skin is medium so I use this and it works almost like a very light concealer would.

Pretty nice product

This is pretty pricey. It does make my undereyes feel soft and smooth after using, and it helps w/dark circles. The main thing that I do not like about this is when you go to pump it, too much comes out for one use, and also sometimes if there was some that didnt come out from the last time, then you get a sort of clump before getting new product.
Back
to top