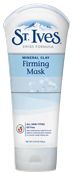 Editor's Rating & Review
I use this simple kaolin clay mask sometimes when I'm home alone, puttering about in my PJs. It lacks a noticeable scent or exfoliating elements, but it soaks up oil effectively. After 10 minutes, skin feels dry and super-taut. Whether the spackle-like mask deep cleans, lifts away dead skin cells and stimulates collagen is debatable, but a good, warm rinse leave cheeks firm and smooth. Dry skin types, beware. This may be too drying.
Reviewed by Charli on 12/21/2007

How we review products
St Ives products are great and inexpensive.

I use this maske and it really tightens your face and leaves a nice glow.

like it like all the st.ives line

feels good on, dries fast, washes off easily and leaves my face feeling fresh and soft. nothing spectacular, but a good staple in any routine.

A keeper

I ran out of my Mary Kay masque and need one so I ran to the store and picked this up - it's definetly a keeper. I like it just as much as MK and will continue to use it.
Back
to top