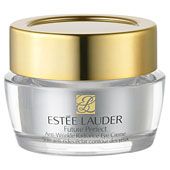 Editor's Rating & Review
"Reduces the look of eye lines and wrinkles -- fast," the company claims, but a speedy retreat of fine lines is practically impossible with a cream. This one's loaded with the powerful antioxidant NDGA, Vitamin C and Siegesbeckia (a soothing and protective herb), which are delivered to the skin via Cell Vectors, a "groundbreaking" technology that deposits active ingredients where they're needed. It does deeply hydrate, but after a couple months of use, I'm still awaiting the line-erasing effect.
Reviewed by Kristen on 10/05/2007

How we review products
Smooth Operator

This cream is so light and smooth and I noticed a difference in my skin under my eye immediately. Great results when used daily.

Decent

I think this cream helped with the tiny lines around the eyes that you can't really see. I only notice those lines when I'm putting concealer under my eyes and when I've used this product, I see less of them.

Estee Lauder Anti Wrinkle Radiance

This product is great. It works really good and is so smooth. Makes your skin feel like silk.
Back
to top