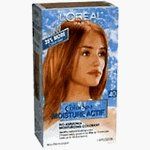 Lasts only 2-3 weeks

I love the color TEAK to tone down the orange color after lightening my hair, but I guess my hair is porous that this only lasts 2-3 weeks. It's gentle enough that I can use it for double processing, and gentle enough for repeated use every 3 weeks. It's too runny and drips, so they need to come out with a thicker creme version. My towel gets discolored for the first week of showering.

Excellent semi-permanent color, but...

I prefer this brand over Natural Instincts because it lasts longer. But, there aren't enough colors to choose from vs. Natural Instincts. It's also hard to find - I'm wondering if L'oreal has discontinued it? If so, I'll miss this product.

makes my hair seem healthier

I used to use this in the dark brown shade and I now use it in the light brown for under my hair, next layer dark blonde and I tone my highlights w/ the medium blonde. I used to only hightlight to get my medium brown hair blonde and my hair was really healthy until I decided to dye w/ all over color and that made my roots more noticable so I'd dye again long story short my damaged hair is getting back into shape using this dye.